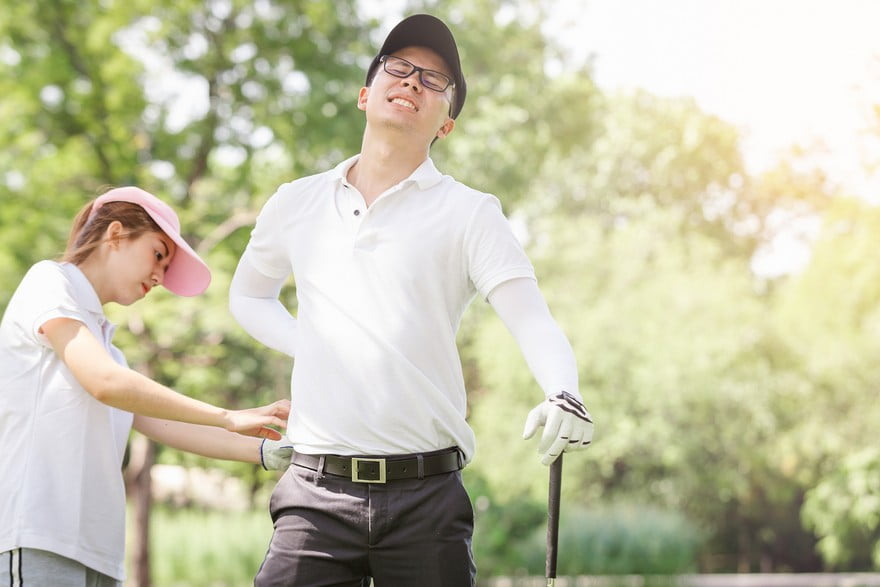 Treatment For Golfing Injuries
Is your body feeling below par?
Don't bury your head in the sand. Come and see one of our team members at Northern Spinal & Sports Injury Clinic.
If you're a golfer, you'll know playing the game is not just a walk in the park. Besides the six or seven-kilometre trudge, there's also the explosive element; the swivel; the swing; the flexibility; and the power.
At the end of a round, your body is acutely aware of the workout you've given it. Victory, of course, is a great healer, but even that doesn't numb the aches and pains forever.
Golfing injuries are more common than you might think. Believe it or not, golf is surprisingly high up on the list of sports that cause the most injuries, and many of the 60 million people around the world who play, carry their niggles with them through the week.
If you find something is hampering your swing, you're feeling under par, or are temporarily handicapped by a sore back, get in touch with Northern Spinal & Sports Injury Clinic. We see plenty of golf injuries.
Usually, our golfers present with lower back, shoulder, elbow, wrist and hip injuries. The most common causes include overuse, poor swing mechanics, lack of warm-up, and poor posture.
Treatment For Golfing Injuries in Melbourne CBD & Reservoir
The good thing is, we can help with all of them. At Northern Spinal & Sports Injury Clinic in Reservoir & Melbourne CBD, we'll work out and treat the root cause of the problem and help you strengthen the area. Our Osteopaths, Chiropractors & Physiotherapists will also give you advice on how to prevent the injury recurring.
As your shoulder begins to heal, it is vitally important to restore range of movement, and later to improve muscle strength so as to stabilise the shoulder and help prevent further injury and aggravation.
Your practitioner will be able to assist you with suitable shoulder range of motion exercises, and shoulder strengthening and rehabilitation exercises during your recovery.
So stop putting it off. Call Northern Spinal & Sports Injury Clinic on 03 9470 1010 and get your injury assessed.